httpss://www.youtube.com/watch?v=t_jxnq3gZUM
Sophie (Lindsey Craine) will ihren 18. Geburtstag feiern und lädt dazu neben ihren Freundinnen noch ein paar andere Gäste ein. Doch die Party nimmt irgendwann überhand, als der Exzess durch nicht eingeladene Fremde immer weiter getrieben wird. Allerdings hat wirklich niemand mit der nächsten Phase der Party gerechnet: Eine mysteriöse Frau namens Pandora (Steph Mossman) beschwört höllische Kreaturen, die fortan die Feierlichkeiten heimsuchen und die Gäste, mit oder ohne Einladung, in ihre Einzelteile zerlegen. Sophie findet heraus, dass ihre Mutter bereits mit denselben dämonischen Eindringlingen zu kämpfen hatte und nutz ihre Notizen, um der Situation habhaft zu werden.
Summary
Book of Monsters (2019)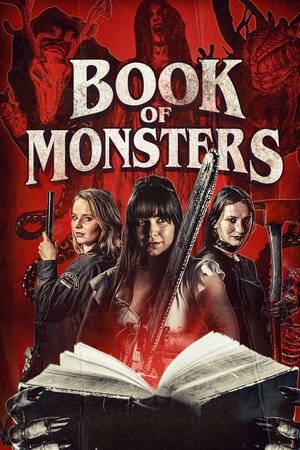 Sophies 18. Geburtstag läuft aus dem Ruder und wird zu einem unerwarteten Blutbad, als Monster in ihr Haus eindringen und anfangen, die Partygäste zu verschlingen. Sophie und ihre verbliebenen Freunde müssen jetzt zusammenhalten, um ihre Party-Crasher zurück in die Hölle zu schicken. Hilfe erhält sie aus alten Notizen ihrer verstorbenen Mutter, die einst auch gegen die Monster kämpfen musste.
Lyndsey Craine
Role: Sophie

Michaela Longden
Role: Mona

Lizzie Stanton
Role: Beth



Arron Dennis
Role: Carl The Stripper/ The Beast
Steph Mossman
Role: Girl in Red/Pandora/The Shapeshifter/The Jinn
Julian Alexander
Role: Brice, Arya's Boyfriend
Dave Jameson
Role: Dave The Virgin/ The Abomination

Samantha Mesagno
Role: Sophie's Mum
Julia O'Connell
Role: Greta The German Exchange Student

Johnny Vivash
Role: Mr. Willis
Jessica Fay
Role: Young Sophie
Cal O'Connell
Role: Officer Graham
Paul Toy
Role: Officer Keith

Taavi Peelo
Role: Drunk Guy
Elizabeth Mae-Starbuck
Role: Tanya, AKA "Screaming Girl"

Jamie McKeller
Role: Anders, AKA "Toothpaste Guy"
Joe Armstrong
Role: Frazzles Boy
Jae Macpherson
Role: Eaten Guy

Josie Connor
Role: Guts Girl
Ben Hartley
Role: Hawaiian Shirt Guy
Gian Piero Pottieri
Role: The Beast
Mark Wilkins
Role: The Slasher
Paul Butler
Role: The Slasher

Nicholas Vince
Role: Jonas
Natalie Roe
Costume Designer
Cal O'Connell
Co-Producer

Daniel Thrace
Stunt Coordinator
Massimiliano Borghesi
Sound Designer
Oliver Mitchell
Second Assistant Director
India Stone
Hair Designer
India Stone
Makeup Designer
Nick Ford
Associate Producer
Alex Joyner
Executive Producer
Greg Orsi
Executive Producer
Sam Hunter
Production Designer
Hamish Saks
Director of Photography
Joe Armstrong
Focus Puller
Gian Piero Pottieri
Gaffer
Anna Bennett Squire
Production Manager
Paul Morris
First Assistant Director
James Martin Buck
Second Second Assistant Director
Liam Gilchrist
Sound Editor
Liam Gilchrist
Sound Recordist
Sara Kuna
Art Department Assistant

Sam Hunter
Production Design
Daniel L. Martin
Art Direction
Rachael Widjaja
Electrician
Hannah Holmes
Camera Trainee
David Fenton James
Boom Operator
Frankie Maiden
Assistant Art Director
Carly Brown
Costume Supervisor
Willow Hick
Costume Assistant
Gemma Shelton
Costume Assistant
Paul Wilkins
Special Effects Makeup Artist
Mark Wilkins
Special Effects Makeup Artist
Abigail J. Harding
Concept Artist
Sam Johnston
Script Supervisor
Jeff Bltyh
Visual Effects Supervisor